Typically, people tend to focus on what they eat or how much they eat when they decide to make changes to their diet. However, that is merely one part of the puzzle. While picking the right kind of foods is an integral part of eating healthy, the weight of the growing conditions, sourcing, storage, processing and preparation on foods nutrients bioavailability is quite considerable.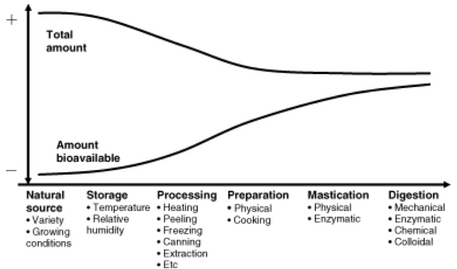 Source: Parada, J. and Aguilera, J. (2007), Food Microstructure Affects the Bioavailability of Several Nutrients. Journal of Food Science, 72: R21-R32. doi:10.1111/j.1750-3841.2007.00274.x
Best ways to cook vegetables
So, how can we retrieve the optimal amount of nutrients from our vegetables?
Well, it depends.
It is undeniable that the method of cooking affects the nutritional make-up of foods. However, this largely depends on the food that is being cooked. While cooking makes it easier to digest food and absorb nutrients, the levels of vitamins and minerals may decline during the process, especially for water-soluble vitamins sensitive to heat such C and B vitamins. As you can imagine this is quite important because vitamins and minerals are essential nutrients, our body cannot produce them so we need to get them externally ideally from our diet. In their absence, we cannot produce energy, develop a robust immune system, maintain healthy bones, and so on.
But eating raw veggies is not always better than eating cooked ones. Although cooking can minimise certain nutrients, it can also increase the bioavailability of others. For example, the phytonutrient lycopene found in tomatoes is more available when cooked; many other vegetables such as carrots, mushrooms, asparagus also supply more antioxidants when cooked. There are still many unknowns on how the multitude of different molecules in plants work synergetically and with our body. Therefore, generally, eating both raw and cooked vegetables is a rounded balanced approach.
Check this handy summary if you want to delve into optimal ways to cook different vegetables.
When it comes to the ideal methods for cooking vegetables, there's a unanimous agreement:
– When vegetables are steamed, the majority of nutrients are preserved.
– When veggies are boiled, many nutrients are lost.
Remember, always aim for crunchy and not mushy. Aim to keep cooking time, temperature and the amount of water to a minimum.
Top tip
Make sure that you reuse the water that was used to cook your vegetables, so you retain some of the lost value of nutrition. For instance, use the water to soups or smoothies.
According to some studies, using some extra virgin olive oil to cook vegetables can enhance the antioxidant capacity of the food, because of the olive oil phenols. Sautéeing is another option that can be considered. Sautéeing is basically cooking in a little bit of oil for a short period of time.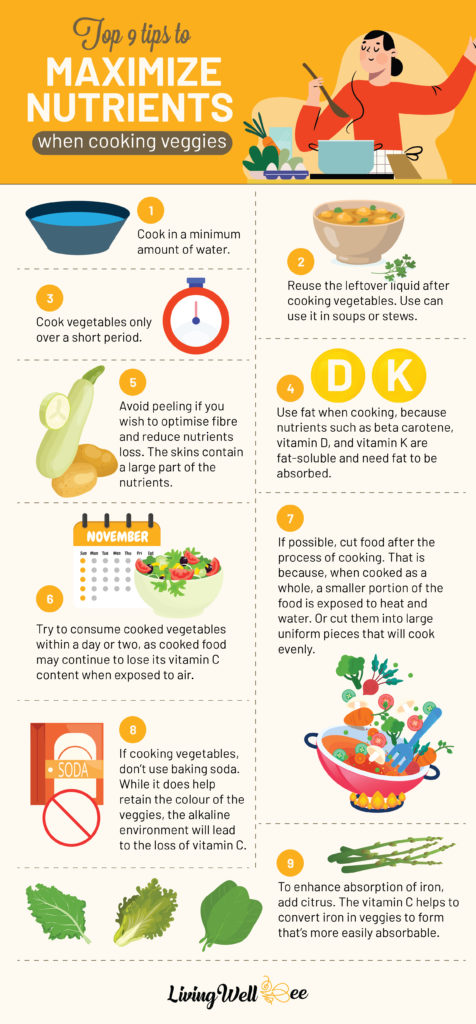 Did you know?
When you crush or chop onions and garlic, allinase is released, which is an enzyme that contributes to the formation of allicin, a powerful compound that offers antioxidant benefits and is found to reduce inflammation. Ideally, it is best to leave crushed garlic for about 10 minutes before cooking to increase the formation of such compounds.
Ways to help retain freshness and nutrients in vegetable and fruit
Another aspect that must be considered is the journey of the food that you choose to buy. While various factors impact your food's nutritional value, one simple way to start eating healthy is by buying the freshest ingredients, with minimum time from harvest. Today, it is extremely easy to buy whatever we want from literally any place in the world. Hence, we overlook information about the time it took for the items to arrive at your grocery store as well as the distance it would have travelled. If the produce travelled over a long distance, it means that the items were harvested prior to their nutritional peak to prevent spoilage. Moreover, the longer the distance you travel, the more would be the transport costs and pollution. Here are a few things you must look at and take into account when buying your produce.
1. Freshness
Consider, is the produce in season or not? Is it local?
In general, freshly harvested fruit and vegetables contain more vitamins than those held in storage. Nutrients begin to be lost as soon as produce is harvested, but this amount is quite variable. Just to give you an idea, a study from Penn State University showed that it took six days for the spinach to lose 47% of its nutrients at 10 °C and at 20 °C it took four days. Hence, going to the local farm or visiting a farmer's market is a good option to find fresher nutrient-dense products.
One third of annual world's food production for human consumption is lost or wasted in food supply chain. Significant amount of nutrients and bioactive ingredients are also lost as a consequence. Yet, 795 million people are chronically undernourished and over two billion people are micronutrient deficient worldwide.

Food and Agriculture Organization
It is also important to note that different products have different lifespans. Therefore, organise your fridge as well as your meal plans taking this into account, in order to avoid spoilage and retain optimal foods nutrients. There are some optimal ways to organise this as shared by the Food Revolution Network:
– Produce you should eat ASAP after buying: apricots, berries, mangoes, peaches, plums, and ripe bananas, bok choy, chard, kale, and spinach, and common salad ingredients such as cucumbers and tomatoes. Fresh herbs also fall under this category: basil, chives, and other leafy condiments.
– Produce you should eat within 5-7 days: cherries, oranges, grapes, and pears. Vegetables such as bell peppers, eggplant, the cruciferous crowd of broccoli, Brussels sprouts, cabbage, and cauliflower. A few other vegetables falling under this group are green beans, sweet corn, lettuce, mushrooms, summer squash, and baby potatoes.
– Produce that store the longest: apples, lemons, limes, root vegetables like beets, carrots, ginger, onions, large potatoes, sweet potatoes, turnips, winter squashes can be consumed in 1 week or more.
2. Storage
There are a few good ways to store vegetables and fruits that best retain their nutritional value. It is important to choose where to store them, what vegetables store in the refrigerator and outside, what vegetables will be stored together, etc.
– With a crisper drawer, your produce can be better protected as moisture is maintained to ensure freshness.
– Plastic bags with small holes can also help store the produce over a long time without compromising on their freshness, through the release of moisture (20 pin-sized holes in a medium bag will suffice). Instead of disposing of the plastic bags, clean and reuse them.
– Store your fruits and veggies separately in order to vegetables from the ethylene peer pressure of the fruits.
– Highly gaseous produce items such as onions, bananas, avocados, and apples, should not be stored next to each other or among other fruits and veggies, in order to avoid spoilage.
You can learn about how you can optimally store each fruit and vegetable here and in this guide.
Lastly, remember the frozen vegetables are not bad. Generally, freezing does not deteriorate nutritional value, so in-store bought frozen vegetables can be healthy, as long as they are not highly processed. Moreover, frozen vegetables as well as fruits are generally harvested at their nutritional peak and processed very soon, which helps retain nutrients.
I hope you found it useful to understand how important is to consider the whole journey of the food in your plate and appreciate the effort of everyone involved in this process. Indeed there are optimal ways to prepare and preserve food nutrients but don't get too stuck and complicate it too much thinking "I should cook carrots this way and potatoes this way". If you need to pick a take away from this story then I hope is: Enjoy and appreciate your food and keep it simple! Eat a fresh colourful plate and avoid highly processed, deep-fried and chargrilled food. Remember, it is still better to eat broccoli than to not eat it because it's not "perfectly" cooked.