---
If you are looking for a recipe that's hearty, warm, comforting, satisfying and healthy, or if you are simply wondering what you can do with leftover mashed potatoes, stop looking now. This is it!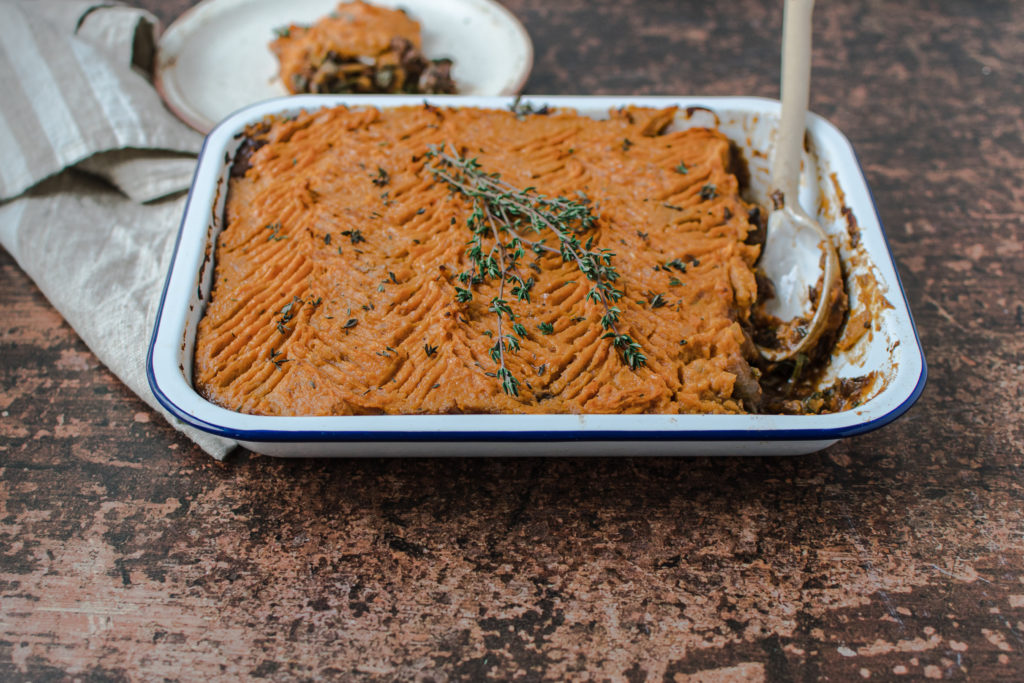 I find a good Shepherd's Pie to be the perfect winter comfort food. There are several different ways to make traditional Shepherd's pie, but the primary ingredients of all are the cooked gravy-soaked ground beef with mashed potatoes on top. I came up with a vegan, gluten-free version of this popular recipe. It's loaded with fibre and winter vegetables that help to keep energy levels up throughout the day. This delicious vegan Shepherd's Pie doesn't lack taste and is the ultimate comfort food for those who want a well-balanced, healthy meal.
The best part about this food? It's a no-fuss recipe that's easy to make in one hour (from beginning to end).
This meat-free casserole dish will be the star of any weeknight meal and special occasion dinner. Bring it to the Christmas table, and watch how fast it disappears.
Why Is This Sweet Potato Shepherd's Pie Healthy and Nutritious?
The sweet potato shepherd's pie uses seven different vegetables and six spices and herbs. This makes it easier for you to get your five-a-day. I love the diversity of vegetables in this dish and how easily we can sneak in veggies when cooking this comfort winter food. Eating a rainbow is essential to ensure we get a diversity of nutrients essential to our health, such as antioxidants, fibre, minerals and vitamins.
Think, why do fruits and vegetables come in different colours? It's more than looking pretty. Fruit and vegetable colours result from certain phytonutrients and indicate a plethora of specific nutrients necessary for good health. While you may want to stick with the fruits and vegetables your family loves, it's necessary for your body's good health to eat all kinds. The spices and herbs not only flavour this dish, but they also contain certain compounds that have been shown to have many health properties. Look at the assortment of spices and herbs as a natural pharmacy in your kitchen, aiding with digestion, reducing inflammation, improving blood glucose levels, etc.
The star of this dish is the lentil. Lentils, which is a plant-based superfood, counts toward the recommended five-a-day. Besides being cheap and easy to make, they are loaded with nutrients such as fibre, minerals (iron, zinc, magnesium and potassium) and protein.
How many grams is one serving of lentils? One serving size is 150g, which is equivalent to around 4 tablespoons of cooked lentils.
Lentils soak up flavours and are a good alternative for meat in most dishes. However, animal protein are complete proteins, this means they provide your body with all essential amino acids. Lentils have a good nutritional profile but they lack the amino acid methionine.
Therefore, vegetarians and vegans are urged to eat a wide array of foods to get all the amino acids the body needs on a daily basis. You can learn more about lentils and meat nutritional profile here.
Frequently Asked Questions
1. Can You Freeze This Dish? Yes. I find that the filling freezes well, but personally, I don't like frozen mash potatoes because it changes the texture. If you feel the same way, prepare the filling and freeze it in serving size in an airtight container. Make the mashed potato fresh when cooking.
2. Does It Keep? You can store the dish for up to four days in the refrigerator.
3. What Is Kuzu? This is a gluten-free starch thickener to smooth gravy texture. Kuzu is also full of flavonoids, unlike other thickeners like cornflour.
4. Why Sweet Potatoes? The combination of the sweet potatoes and the hearty filling flavour is simply delicious. Although regular and sweet potatoes are similar in calorie, protein and carb content, white potatoes have more potassium and sweet potatoes are loaded with vitamin A.
5. What Alternatives To Potatoes Are There? If you want a low-carb option, consider a cauliflower mash, squash puree or carrot puree. These purees will also give the dish a sweet taste.
6. What Is Fava Paste? It's similar to miso, but I find it richer in taste with some sherry touches. This paste brings a deep umami flavour as well as other flavours. It's a perfect addition to your kitchen staples. You can find it here.
Print
Healthy, Gluten-Free Sweet Potato Shepherd's Pie [Vegan]
---
Author:

Total Time:

1 hour

Yield:

8

1

x

Diet:

Vegan
Description
Looking for a vegan, healthy, warm and comforting meal? Look no longer! This sweet potato Shepherd's Pie is the perfect balanced meal for the upcoming colder months, and it's so easy to cook!
---
Filling
480g

cooked brown or green lentils (rinsed and drained)

2

medium brown onion (sliced)

2

garlic cloves (minced)

250

chestnut mushrooms (sliced into small cubes)

1

bay leaf

2

tbsps olive oil

25g

parsley (roughly chopped)

25g

coriander (roughly chopped)

½ tsp

salt

4

tbsps tomato puree add grams

200g

baby spinach
Gravy
250

ml vegetable stock or water

15g

kuzu (can also use arrowroot or cornflour)

2 tbsp

of fava umami paste (can also use dark miso or yeast spread)

2

tbsps balsamic vinegar
Mash
1

kg / about

6

large sweet potatoes

½ tsp

salt

3

tbsps of olive oil

3

cloves garlic (crushed)

6

sprigs of thyme

10

black peppercorns

2

bay leaves
---
Instructions
Mash
With skin on, cut the potatoes in half, placing them into a large pot and pouring water until they're covered. Peel garlic cloves and crush them, adding it to the pot. Also add peppercorns, bay leaves and thyme. Put a generous amount of salt into the pot.
Cook on medium-high heat, bringing it to a boil. Turn the heat down to a simmer and allow it to cook for about 10 minutes. You want the potatoes to easily slide off a knife.
Once done, drain water and remove the peppercorns, thyme and bay leaves. Put the potatoes and garlic in the pot once again, cooking on a slow heat. When completely dried, use a masher or food processor to mash the garlic and potatoes. Add the olive oil and season the potatoes with salt and pepper until it's to your liking. Set aside, covering it loosely.
Filling
While the sweet potatoes are cooking, preheat the oven to 220 C (425 degrees F) and lightly grease the baking dish.
In a large saucepan over medium heat, sauté onions in one tablespoon of olive oil until lightly browned and caramelized – about 5 minutes.
Add the garlic and mushrooms, stirring well and cook until softened. Roughly chop the parsley and coriander leaves and stir into the pan. Season with salt and pepper to taste. Add the lentils, spinach and tomato pure. Reduce heat to simmer and cover to blend the flavours for 5 minutes.
Next, prepare the gravy. Mix the kuzu in a small bowl with one tablespoon of water until a paste is formed (you don't want any lumps). Bring the rest of the water to boil in a saucepan. Reduce the stove temperature then gradually add kuzu mix, stirring continuously. Continue stirring until the sauce begins to thicken. You want it to be smooth and glossy without lumps. Season with miso and mix well. Add this sauce to the lentils mix and incorporate it well. Taste and adjust seasonings as needed.
Pour into the prepared oven-safe baking dish, topping with the mashed potatoes. Use a spatula or other utensil to spread and smooth the potatoes across the filling. Add sea salt and pepper for additional seasoning.
Place the baking dish on a baking sheet so that any spills won't fall onto the oven. You want the potato topping to be lightly brown, which can take up to 15 minutes.
Allow cooling before you serve. It will thicken as it cools down. Do not cover until the casserole is completely cool. Keep refrigerated. You can easily reheat in the microwave.
Notes
I leave the potato skins on because of the added fibre. This fibre is ideal for gut health, and it also helps to make you feel fuller for longer.
You can replace spinach with other leafy greens such as chard and kale.
If you want to reduce the equipment used and cleaning time use a cocotte pan to cook the potatoes and bake the pie. All in one!
If you don't like chopping, use a blender to give a rough chop to the garlic, onions and herbs.
I find it easier to prepare the ingredients ahead and chop the vegetables. You can easily follow the recipe and add the ingredients when needed. Have a bowl to catch the scraps, for less mess while cutting and chopping.
It's not uncommon for some people to have digestive issues after eating lentils due to their high fibre content. If you don't have any underlying digestive issues, the body becomes used to the extra fibre and won't produce excess gas. There are some ways to reduce gas lentils can cause: Soak them the night before using; Sprout them before use cook with them; Rinse off ready-cooked lentils with water.
Dry lentils and ready-cooked lentils do not weigh the same. If you use dry lentils, it's less than half the weight of ready-cooked lentils. The above recipe needs 600 grams of cooked lentils, which is about 200 dry lentils.
If you purchase ready-cooked lentils, read the label. Try to get ones without added sugar or salt and preferably in a glass container instead of canned.
Prep Time:

30min

Cook Time:

30min

Category:

Main

Method:

Oven
Keywords: Gluten-Free, Sweet Potato Shepherd's Pie, Healthy, Sweet Potato mash, Sweet Potato topping, Lentils, Baked