---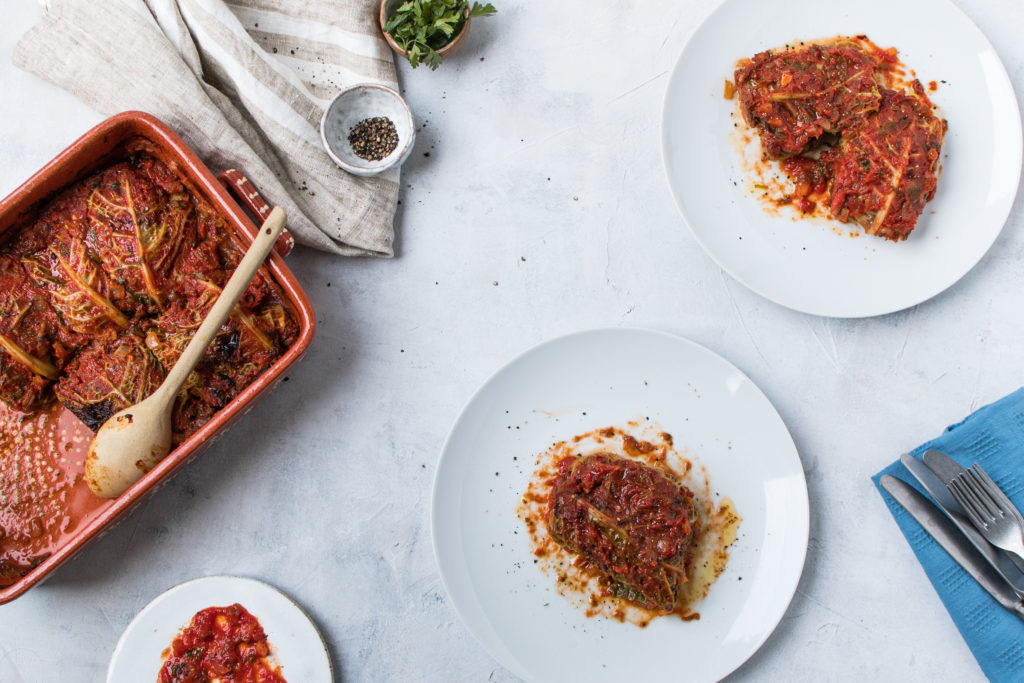 Stuffed cabbage rolls are such a cosy and healthy meal. Stuffed with meat and mushrooms, the cabbage rolls are cooked in a simple homemade tomato sauce and baked to perfection. This causes the cabbage's natural sugars to caramelize, leading to a tasty combination of flavours and textures.
Every single bite is meaty and titillating, and well-balanced. The combination of spices and herbs is crucial in bringing out the cabbage rolls' flavour. This is a low carb comfort food, as there is no rice. And, all the vegetables in the recipe are naturally low in carbohydrates. This keeps the sugar levels steady and keeps you fuller for longer.
The dish has 10 different vegetables, spices and herbs with many health benefits, but the main ingredient is the cabbage. Many people overlook cabbage but this humble veggie is a superhero, low in calories but loaded with minerals, vitamins and antioxidants. Cabbage, which is a cruciferous vegetable, can help reduce the chances for certain diseases, fight against inflammation and improve digestion. It is also rich in insoluble fibre necessary for regular bowel movements and feeding the good bacteria in the gut. In fact, cabbage is seen as a gut healer, as it's loaded with the amino acid L-Glutamine essential for our gut lining.
I believe that a good meal relies on quality ingredients. So, how do you pick a good cabbage? When shopping, you want a colour-bright, firm cabbage. It should be heavy and dense, with no bruises or cracks.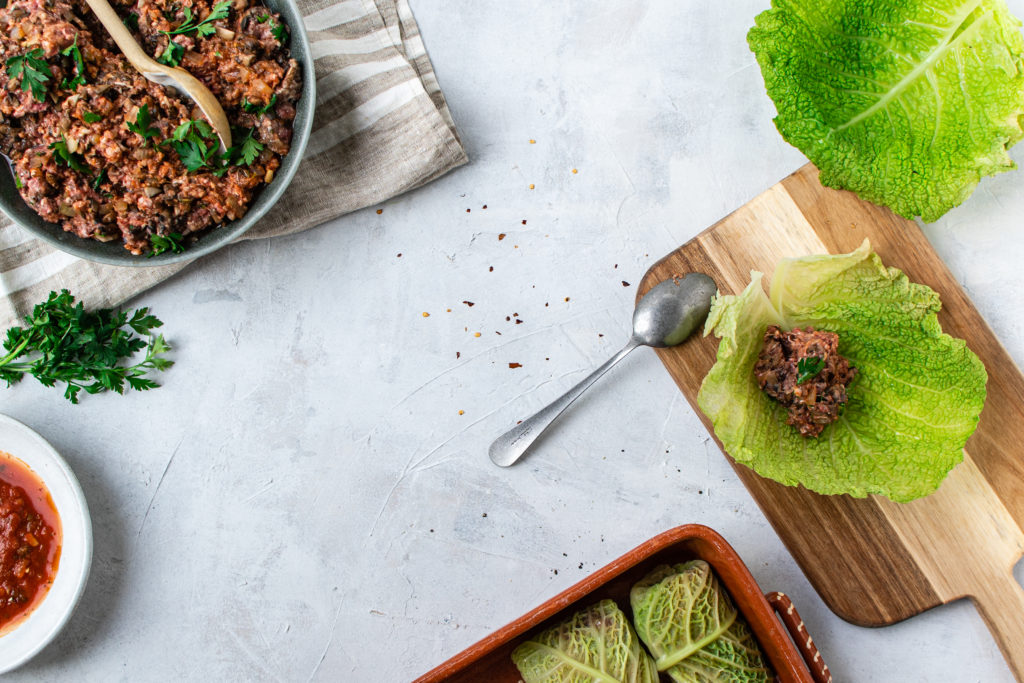 What Is The Best Way To Soften Cabbage For Cabbage Rolls?
You may feel intimidated to make cabbage rolls, but making it isn't that hard. There are several techniques that you can use to prepare the cabbage.
My less Favourite – Blanch and peel: The cabbage leaves will tear regardless of your level of carefulness. However, if the entire cabbage is placed in a pot of boiling water the leaves will tender and can be peeled. Check out this YouTube video https://www.youtube.com/watch?v=H4WS3jYPm3k to see the process. This is not the easiest method if you're not used to dealing with boiling water pots. You're continually removing the cabbage from the boiling water, leading to burned fingers as you have to pull the outer leaves and place the cabbage back in the water and repeat the process.
Middle Ground – Remove the core and boil: This is the most common way to remove leaves from the cabbage. After removing the core, put the cabbage in the water, core side down, and lower the heat to a simmer. Cook for five minutes or until the leaves have softened, as seen in the following video. This is not my favourite way, as it sounds easy, but it can be painful to deal with a hot cabbage! The leaves have to be boiled long enough to be pliable without becoming mushy. So it's a fine balance.
Favourite – Freeze: This is the best way to soften the cabbage. Place the entire cabbage in the freezer the day before you cook the cabbage rolls. Remove in the morning and give it hours to thaw out. The cabbage leaves will easily peel off and be flexible to fold. If you don't have a big cooking pot in your kitchen, this is the method to go with. The only disadvantage I can think of is trying to find space in your freezer and the need to plan ahead.
Good Alternative – InstaPot: An InstaPot can be extremely helpful in preparing this meal, and any meal to be honest. You can actually cook the entire dish in the InstaPot. The only trouble in this option is, of course, the need for an InstaPot, but it's the perfect excuse to buy one.
Special Tip: You want to take off the loose, outer dark green leaves of the cabbage and blanch them. They can be used as a lining for your baking dish, so no food is wasted.
Do Cabbage Rolls Freeze Well?
I always like to have spare rolls in my freezer for days I don't feel like cooking or don't have a lot of time. And, they freeze very well. They are also very versatile because you can make another meal out of them the next day, for example, brown them with a little olive oil and eat them with cooked rice.
You can also assemble the rolls and store them in the refrigerator for up to eight hours before baking or freezing them, so it's a good meal to prep ahead. You want to cook the tomato sauce the day you make the rolls.
How To Store Cabbage Rolls
Refrigerate: Tightly covered in a container and refrigerate for up to four days.
Freeze: Freeze each piece first for 30 minutes before transferring them into freezer bags. Thaw when ready to eat. They can last up to four months in the freezer.
Print
Stuffed Cabbage Rolls with Meat and Mushrooms
---
Author:

Total Time:

2 hours

Yield:

8

1

x

Diet:

Gluten Free
Description
This satisfying, cosy meal is loaded with fibre and 10 different vegetables, spices and herbs with so many health benefits. The stuffed cabbage rolls are cooked in a simple homemade tomato sauce and baked to perfection, caramelising the cabbage's natural sugars. This results in a mouthwatering combination of textures and flavours. I love how diverse this dish is, and I always keep some in my freezer for times when I just don't feel like cooking much.
---
Cabbage rolls
150g

pound

uncooked ground beef

150g

pound

uncooked ground pork

250

g

mushrooms (cut into small cubes)

1

egg

1

head green or savoy cabbage

1

onion (diced)

1

bay leaf

2

cloves garlic (minced)

1

tbsps of olive oil

15

g

tbsps fresh parsley (roughly chopped)

15

g

tbsps fresh coriander (roughly chopped)
Tomato sauce
2

tbsps olive oil

2

onion (finely chopped)

2

garlic (minced)

1/2 tsp

dry oregano (optional)

1/2 tsp

Kuzu (or cornflour, arrowroot)

1/4 tsp

freshly ground black pepper
Pinch of red pepper flakes

1

kg tomato sauce

2

tbsps brown sugar

1 tsp

red wine vinegar

15

g

fresh parsley (roughly chopped)

3

tbsps fresh coriander (roughly chopped)
Salt to taste
---
Instructions
Tomato Sauce
Add olive oil and spices to a large pot, cooking on medium heat until hot. Toss in the onion and sauté for five minutes or until clear. Add and cook garlic for 1 minute. Put in tomato sauce, coriander, parsley, red wine vinegar and brown sugar. Allow simmering for 15 minutes, occasionally stirring. Add salt to taste.
Cabbage Rolls
You can either use the freezing technique as described above or boil the cabbage. If boiling it, fill a wide, large saucepan with water, adding salt to it. Bring it to a boil before putting the cabbage head in. Cook until the leaves are flexible. Peel the leaves of the cabbage, setting aside any broken or small leaves for later use. Keep the water in the pot.
While the cabbage simmers in the water, heat the olive oil in a pan over medium-high heat and sauté the onion and bay leaf until browned. Add mushrooms and garlic, stirring well for another five minutes. Remove the bay lead and move the mixture to a large bowl so it can cool.
In a medium mixing bowl, bind the ground meat, eggs parsley, coriander, salt and pepper, combine well with the mushroom mix. Add 1 cup of the tomato sauce and mix it well.
Preheat the oven to 180 C / 350 degrees F.
Place cabbage leaves on a flat surface. With a knife, create a V-shape notch around the cabbage rib. You want to take out the thick part of it.
Take 1/4 cup of meat and shape into a log before putting it in the middle of the cabbage leaf. Roll the leaf around the filling. Repeat the process with the rest of the cabbage and meat filling.
Spray non-sticking cooking spray in the 9"x13" cooking pan. Pour half the tomato sauce on the bottom and layer it with broken cabbage leaves. Put the cabbage rolls into pan, making sure the seam side is down. Cover with the rest of the tomato sauce. Special Tip: Layering the broken cabbage leaves at the bottom and top ensures the rolls stay moist and won't burn.
Cover the dish with foil, baking up to 90 minutes or until the cabbage has become tender and the meat is thoroughly cooked.
Take out of the oven and allow to rest and cool for 30 minutes. A better option is to refrigerate the rolls overnight.
Notes
You will have to remove the thicker part of the cabbage leaves before you roll them up. This can be done with a paring knife, making a V-shape out the bottom of every leaf to eliminate the tough rib. I finely mince the removed parts and add them to the meat filling. They are a great source of fibre, and it means less food wasted.
Put one-fourth (1/4) cup of filling near the stem of the softened cabbage leaves, rolling them up and tucking the sides as you roll.
You can always roll more than one layer. Should you have gaps, use extra cabbage leaves to fill them. Compact them into the gaps. You don't want the rolls to become unrolled or float in the liquid.
Equipment: 9"x13" baking tray; 1 large pot; Large bowl.
Prep Time:

30

Cook Time:

90

Category:

Main

Method:

Oven
Keywords: Paleo, Low-Carb, Gluten-Free