---
Who said sweet treats couldn't be healthy and nutritious? These goodie-packed muffins are a deliciously healthy alternative to other choices filled with sugar. Sometimes I have them for breakfast – yes, muffins for breakfast! They are also an excellent add-on to kids' lunch boxes. Indeed, these muffins are great for all kinds of reasons:
• Good source of protein (6 g per muffin)
• Rich source of fibre (3.7g, the equivalent of 15% of your daily intake)
• Gluten-free
• Dairy-free
• Quick and easy to make
• Simply delicious
• Incredibly moist and tender
The muffin's texture is fluffy and soft and has fresh hints of orange, honey sweetness, and a warm spiced touch of cinnamon and turmeric.
Just to clarify, the muffins DO NOT taste like beans.
What Makes These White Bean Muffins Healthy?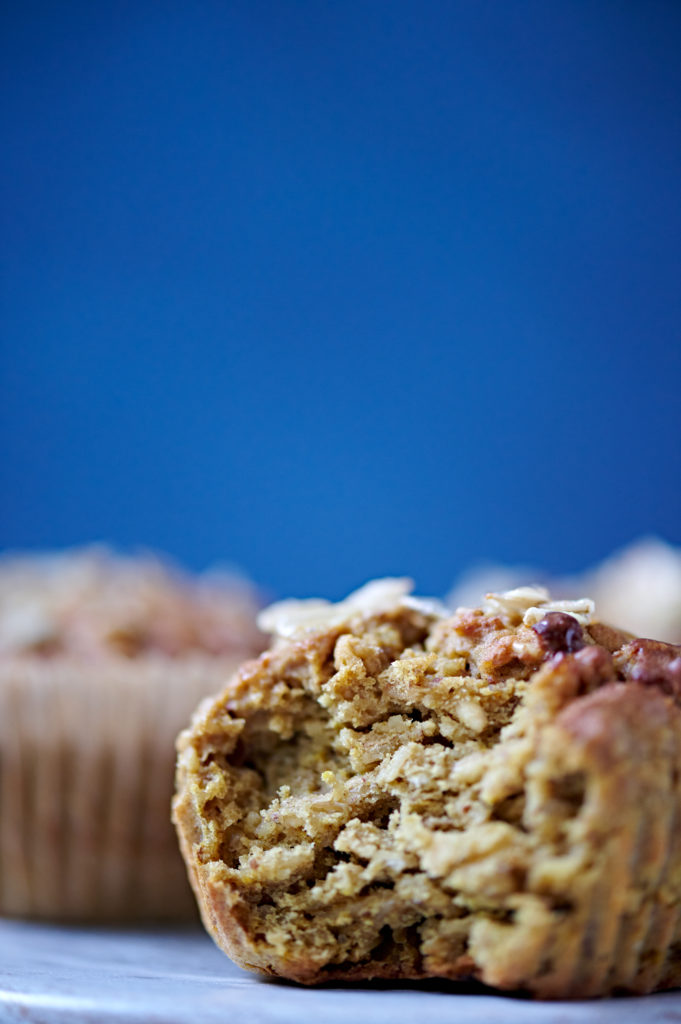 Each muffin has about 190 calories, but there are better things in these muffins than calories counting. These muffins are not only delicious but have wholesome ingredients that nurture your body. They don't contain any refined flours or sugars and are loaded with fibre and protein. This way you'll stay fuller for longer, and your energy levels will remain steady.
Let's dive into some of its super ingredients and benefits: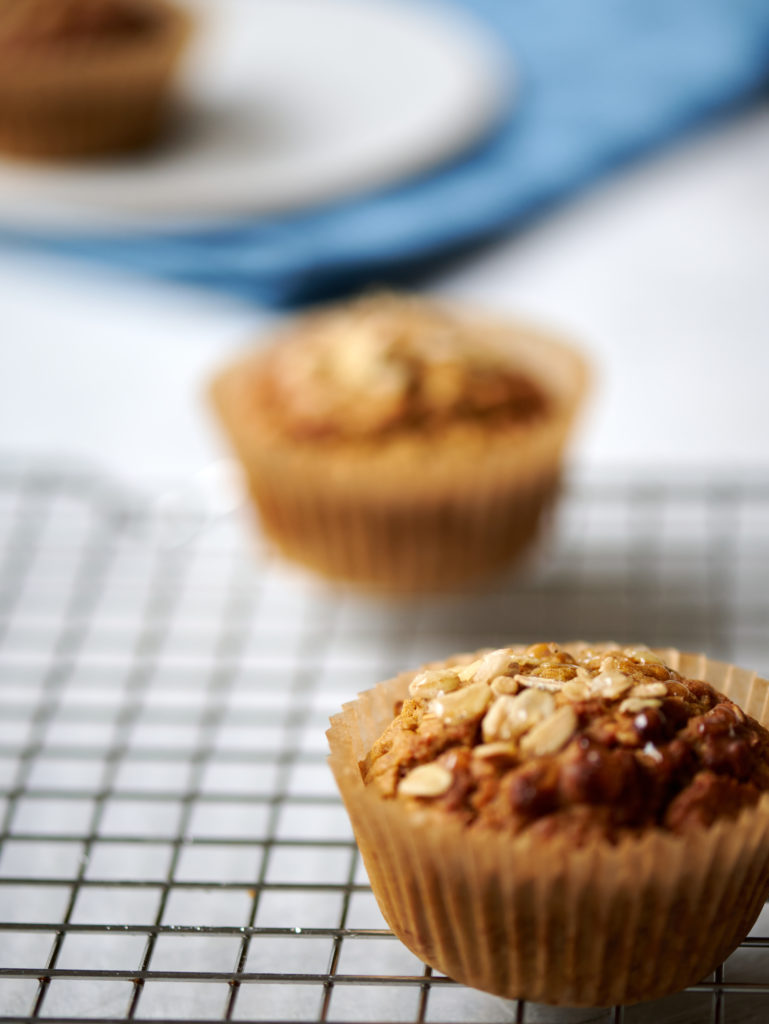 White beans are loaded with fibre and protein and are a great source of various micronutrients such as vitamin B6, magnesium and folate. They are also packed with polyphenol antioxidants, which helps to protect the body from oxidative stress and chronic illnesses such as certain types of cancer and heart disease. Beans also have resistant starch that ferments in the large intestine, generating short-chain fatty acids which feed our colon cells and help to metabolize of fats, carbs, some vitamins. Check out the following link to learn more.
Oats have complex carbohydrates and fibre, such as beta-glucan fibre, which has been shown to decrease blood sugar and cholesterol levels, produce healthy gut bacteria and boost fullness feelings.
Almonds are incredibly nutritious and loaded with healthy fats, minerals, vitamins and antioxidants. There have been many studies on almond health benefits such as weight management, diabetes and heart health.
Lower sugar. These white bean muffins don't have the sugar content seen with store-bought or coffee-shop muffins. The orange and honey naturally sweeten the muffins. The Palmyra sugar, used in the recipe, is a traditional Ayurveda ingredient and is loaded with nutrients. In one tablespoon, it has the following:
• 133% vitamin B12
• 222% vitamin B6
• 665% vitamin B1
• Low in fructose
• Low glycemic index
In India, the sugar is known as the "sugar for diabetics." With less than 40 GI, it doesn't disrupt the blood sugar level compared to white sugar.
Cinnamon has also been shown to help with controlling blood sugar levels and improve blood glucose and cholesterol levels. You can learn more by visiting https://www.diabetes.co.uk/natural-therapies/cinnamon.html.
Oranges offer a natural sweetness to the muffins as well as flavour and moisture. They are also loaded with vitamin C and other vitamins and minerals like folate, potassium, thiamine and multiple plant compounds. Orange peels are loaded with vitamins and fibres and polyphenols, which help protect the body from diseases. They also have limonene, which is a chemical that helps protect the skin from cancer. A single tablespoon of the peel has three times more vitamin C than the inside. Be sure to purchase unwaxed, organic oranges (as well as other fruits and vegetables).
These muffins are so easy to make, taking just 15 minutes to prepare. They can also be used with a food processor, making it less of a hassle. What else can you ask for? If you have a favourite healthy muffins recipe list, hopefully, these muffins will top it.
Print
Healthy Spiced Bean and Oatmeal Muffins
---
Author:

Total Time:

40 minutes

Yield:

1

2

1

x

Diet:

Gluten Free
Description
These goodie-packed beans and oatmeal muffins are a delicious healthy alternative to sugar-laden treats. Their flavour and texture will blow your mind; you will not believe that you are eating beans! You can expect a fluffy, soft texture combined with fresh hints of orange, the sweetness of honey, and a warm spiced touch of cinnamon and turmeric in every bite.
---
60

g

palmyra blossom nectar

1

orange (zest and juice, preferably organic and unwaxed)

250

g

white beans

60

g

apple sauce

50

g

coconut oil (plus 1 tbsp for the glaze)

1 tsp

vanilla essence

2 tsp

cinnamon

1/2 tsp

turmeric

1/2 tsp

salt

200

g

rolled oats

100

g

ground almonds

3 tsp

baking powder

3

eggs

1

tbsps honey

2

tbsps oats to decorate
---
Instructions
Preheat the oven to 180 C/ 356F.
Mix sugar and oil in the food processor at medium speed for three minutes.
Add the eggs (one at a time) to the mixture stirring in the food processor at a medium speed. Incorporate the apple sauce, turmeric, salt, orange juice, orange zest and cinnamon and vanilla
Add drained white beans, and blend until fully smooth.
Whisk the baking powder, oats and almonds together in a bowl until well combined. Mix it with the bean batter until thoroughly combined
Line the muffin tray with paper muffin cases.
Fill muffin cases two-thirds full and bake for 25 mins. You want it to be firm to the touch. Insert a skewer or toothpick to the middle to see if it comes out clean.
While the muffins are baking, prepare the glaze by mixing the honey and the coconut oil. Microwave for 30sec until fully smooth, mixing well.
Take muffins out and remove them immediately from the tin – continued heat exposure will lead to excess moisture.
Gently brush them with the honey glaze.
Notes
Can You Free These Bean Muffins? Yes, the white bean muffins are freezer-friendly.
How Long Can You Keep Them For? Muffins will be good for up to three days, so long as they are in an airtight container at room temperature.
Equipment: Spatula; Pastry brush; Food processor; 2 x 6-hole muffin tins lined with muffin cases. I buy the muffin cases from If You Care. Their products are premium-quality, are unbleached (so fewer toxins), and crafted to have the least environmental impact and the lightest carbon footprint possible.
Prep Time:

15

Cook Time:

25

Category:

Breakfast, Dessert
Keywords: Muffins, gluten-free, dairy-free, fibre rich, beans